Student Clubs active in 2015/16
ReStore

The ReStore is a 100% student-run free store on campus dedicated to reuse, upcycling, and sustainable practices. The ReStoreprovides an opportunity to upcycle and reuse materials free of charge, and inspires patrons from the MassArt and local community to incorporate sustainable practices in their work as artists, designers, and citizens. Contact: restore@massart.edu for more information.
Interested in joining the ReStore volunteers? Meetings are often Thursdays at 7pm in the Sustainability Incubator in the DMC110! Contact us for more info….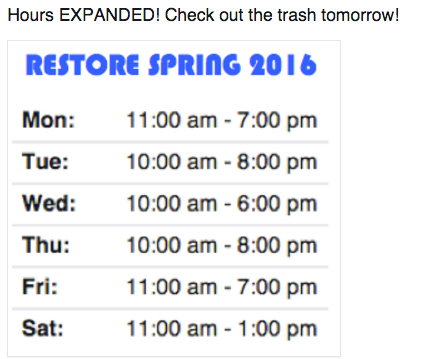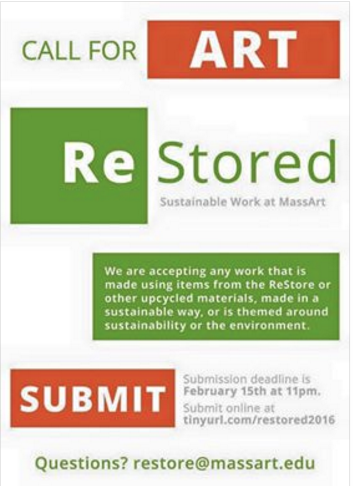 Massart: Action for the Planet
MassArt Action For The Planet is a group concerned about climate change, pollution, and the health of the Earth and its inhabitants. Climate change affects communities and wildlife across the globe; the evidence is overwhelming that humans are causing these negative effects. We feel compelled to take action to prevent more destruction being done to our planet.  Through sustainability efforts on the MassArt campus, we hope to reduce our carbon footprint and inspire others to do the same. Using art in a variety of media, we believe we can inform and expose our community to issues that we feel are crucial to our planet's sustainability.
Contact: Grant Warren gcwarren@massart.edu
Green Arts Network

The Green Arts Network is a platform for artists to exchange sustainable ideas, resources, and creations.  Founded by Stephanie Houten in her first year at Massart while a student in the Sustainable Projects class, the aim of this Massart Student Group is to bring together artists, musicians, and activists at Massart and in the area to create cultural events, music shows, and exhibitions that address sustainability today.  Feel free to share or post about any works or events relevant to sustainability and the arts.  If you are interested in being featured on our page (www.facebook.com/thegreenartsnetwork) email us at greenartsnetwork@gmail.com
Clay for Change

How do you use ceramics as a connecting and progressive tool? Thats a question we hoped to answer to students who attended the Student Involvement Fair where we represented Clay for Change, a student organization run by me and Vanessa Norris here at MassArt.
Together we strive to connect with local organizations and promote social change through clay practices. We partner with organizations in Boston such as Future Chefs, an organization which teaches professional and personal skills to urban high school students (like me, years ago) in order to succeed in the culinary industry. On the first week of December (date to be announced) we will hold an event called Pies For Change, where "Change is as easy as pie!". We are in the process of making 80 ovenware pie dishes for sale with pies. Future Chefs students will learn how to use ovenware, make pies, and, through our workshops, learn the connection between making ceramics and cooking food.
We also work with the Haley House, which provides services such as a food pantry, a transitional employment program, urban farming, low income housing, and a bakery cafe where we hold our annual open bowls event. Souper Bowl is a fundraising event where we sell over 300 bowls to attendants along with delicious soup from local businesses. We hope to get more students involved in our work along with workshops such as the Bowl Decorating Party happening on November 10th.
Clay for Change is excited to collaborate and continue to promote ceramics as a means of community building and social change! ​
contact Gustavo Barceloni for more info: gtbarceloni@massart.edu