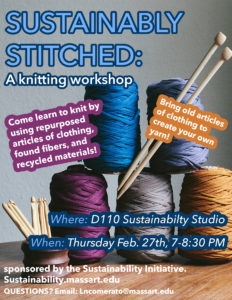 On Thursday last week, we hosted our first Sustainable Skill Share in the Sustainability Studio (say that 3x fast!).
Lauren Comerato, a senior Fibers and History of Art Major, lead a dozen students and members of the Boston community in a knitting tutorial, followed by a demonstration of how to transform old clothing and fabric into yarn to crochet or knit.
MassArt students have incredible craft and making skills.  Sharing them in an open peer to peer studio environment is part of transforming our growth economy into a resilient, supportive, just collective of humans and other than humans.
We are planning to offer at least one more student lead Sustainable Skills Share this semester: making dyes and inks from plants
If you would like to lead or join a Sustainable Skill Share, email us jmarsching@massart.edu