Courses offered in the Sustainable Studio 2017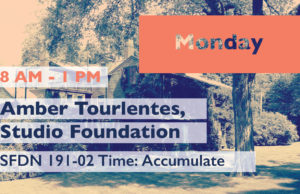 Amber Tourlentes
Studio Foundation, Time: Accumulate
Monday 8-1
This Course asks the questions: how and where is culture and how is community being produced and sustained. Through the lens of social and environmental justice how is cultural production, design and art making being reimagined?
The course will draw on your capacity to see and think both critically and sympathetically into durational/time-based thought modes. We will be screening projects by artist, designers who are working with sustainability; environmental and community based projects. We will study and create projects involving mapping/drawing, photography, sound, video, installation, web, and artist books.
What are some of the new forms of social and artistic capital such as intervening into systems of production and distribution, slow design principles, and community sharing skills and resources. We will view/discuss interdisciplinary projects from 1960's to present, artists engaging–working with audience, community and reimagining; form, material, labor, function, resources, and sustainability.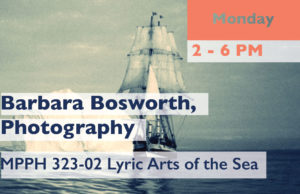 Barbara Bosworth
Photo, Lyric Arts of the Sea  MPPH-323-02
Monday 2:00-6:00
Who we are as human beings has been profoundly shaped by the sea; and we, in turn, continue to be drawn to the sea as a site of contemplation and source of inspiration. This course will introduce you to some of the great visual art and lyric literature that the sea has inspired, and will also give you the chance to create work directly influenced by the sea.
During the spring semester, we will look at and read a range of visual art and poetry inspired by the sea. Assignments during the semester are intended to immerse you in the visual and verbal traditions of sea-related art.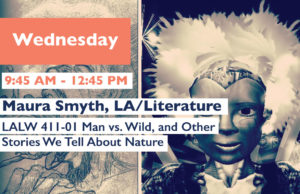 Maura Smyth
LA/literature, Man vs. Wild, and Other Stories We Tell About Nature LALW-411-01
Wednesday 9:45-12:45
Droughts scorch the Middle East and the American southwest. Wildfires rip across Indonesia. Rising sea levels are already beginning to swallow up island nations, and warming waters are decimating ocean life. As the effects of climate change wreak havoc on human societies and ecosystems across the globe, they also shine an increasingly bright spotlight on how human beings think about and interact with the natural world. This class will explore changing attitudes toward nature over several centuries, including, and especially, the present day. We will discuss the role that writing and art have played in shaping our understanding of the natural world over time. We will also explore how writers, artists, and filmmakers are confronting the representational challenges posed by climate change today.
Over the course of the semester, you will undertake research on an interdisciplinary project that investigates a site of human-nature interaction of your choosing, traces its impact on the world, and explores creative ways to express this impact. You will receive feedback on this project in beginning, intermediary, and final stages, and it will include both written and creative components. We will have several exciting opportunities to broaden our perspectives on this topic. First, this course will be participating in the interdisciplinary Sustainability Studio in the DMC, through which we will open several of our classes to the public. Second, we will meet multiple times over the semester with Professor Nava's summative elective course, which approaches many of the issues we will be addressing from a scientific perspective that will deepen our humanistic one.
Readings:
Nies, Black Mesa
Johnson, O-rings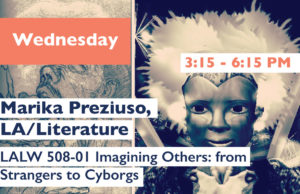 Marika Preziuso
LA/Literature, Imagining Others: from Strangers to Cyborgs LALW-508-01
Wednesday 3:15 –6 :15
This course invites you to forge connections between the ways in which literature, critical theory, visual arts, and popular culture have produced "others", from "strangers" to post-human "others", including androids, cyborgs and AI. In class we will reflect on the ways in which writers, artists and thinkers have challenged the dichotomy Self vs. Other, with its cognate opposites: life vs. death, white vs. black, good vs. evil, male vs. female, animate vs. inanimate, humans vs. the natural world.
Due to its integration of writing, reading, art critiquing and art making, Imagining Others is an ideal course for artists approaching their final projects in their major departments.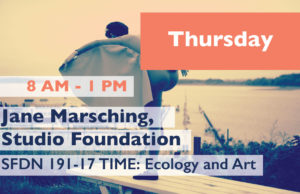 Jane D. Marsching
Studio Foundation, TIME: Ecology and Art
Thursday 8-1
Nature, landscape, earth, environment, climate: so many words for the natural world that surrounds us. This class looks at the current state of the natural world: its beauty and peril, its sublime and polluted aspects. Projects will address the climate crisis through the lens of time. We will create projects that engage sustainability and resilience as creative responses in art and design to our imperiled future. Themes of gardening, recycling, composting, waste, consumerism, growth, visual communication, and design for change will be our focus.
We will play with fundamental concepts of time in art including narrative, duration, tempo, and others through projects in a variety of media including sound, video, multiple image sequences, and books. Collaborative, research, and performative practices will be explored.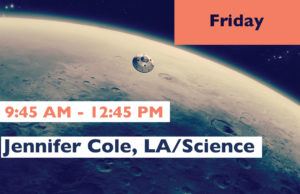 Jennifer Cole,
LA/Science, Eating and the Environment
Friday 9:45-12:45
Eating and the Environment focuses on the impact that our daily food purchases and consumption make on the environment and our health.  In the class, we will examine major themes related to both industrialized and sustainable agriculture, including: soil resources and pollution; water and air pollution; pesticides, herbicides and fertilizers; the farm bill; tropical deforestation; food additives and nutritional supplements; food safety and emerging infectious diseases; meat and dairy sustainability ramifications; GMOs; and climate change. This course gives students the tools they need to understand what constitutes environmentally friendly and healthy food. Choosing these leads to a higher quality of life in many ways.  There is no bigger impact on Earth than agriculture.  And food consumption has the single largest impact on our health.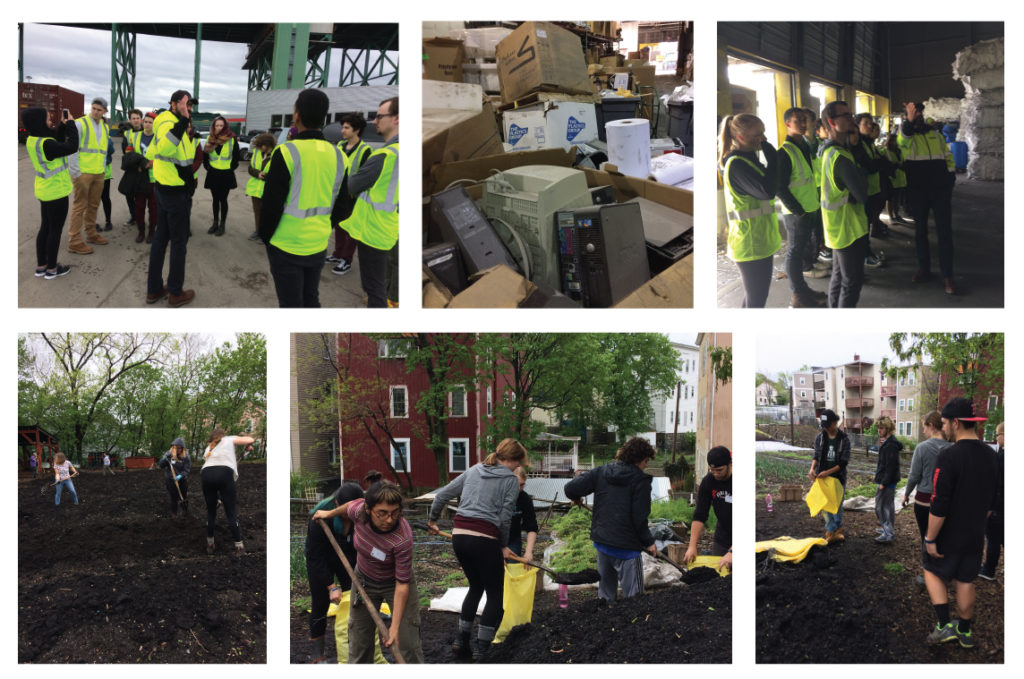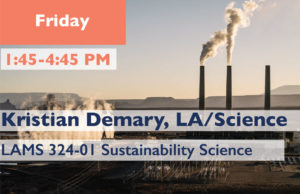 Kristian DeMary
LA/Science, Sustainability Science
Friday 1:45-4:45
What is the nature of sustainability? How can we learn from and with nature, its biological diversity and ecosystems, to become more resilient? Practical examples, field visits, readings, and discussions will give students the opportunity to learn about emerging interdisciplinary sciences and solution-driven technologies based on green chemistry and biomimicry. Through explorations of the water-energy-food nexus, adaptations to climate change, and sea level rise, students can explore how we can become self-sustainable in the era of Anthropocene. The intention of the course is to give students a greater understanding of how science can inform public policies. In addition, attention will be paid to how science relates to art and design making, and vice versa.
Relates Courses in DMC
Saul Nava
LAMS Science, BioAesthetics and the Human Animal, LAMS-401-01 (33881)
This course explores aesthetics in nature and the evolutionary processes of sensory drive and natural and sexual selection. The course will critically examine both anthropocentric and ecological schemes on the aesthetic diversity of nature, focusing on the creative agency of non-human organisms and objective and subjective models of inquiry. The course evaluates and challenges historical, contemporary and emerging perspectives on what is art, who/what can create it, and on interactions between science and art. Through a combination of discussion, guest lectures and collaborative projects students will explore various topics focused around the biological and evolutionary bases of creativity, art and design.
Judith Leemann
3D, Performing Cloth, 3DFB 215-01
This course examines two related questions: How might the processes involved in making and altering cloth shape performative practices? When, and in what ways, can cloth itself be seen as performing? Students are exposed to the work of contemporary artists and designers whose work takes up these questions and to relevant critical writing and theory. The course deliberately confuses the creative and the critical, structure and outcome. Assignments will address issues of labor, handcraft, spectacle, community, and narrative, and will move back and forth between making (objects, surfaces, images, performances) and research (looking, reading, writing.) Class instruction will include introductions to basic fiber processes; no prior experience in fiber or performance is expected.
Jenn Varekamp
Fashion, Culture, Dress, and Identity
This course will examine the relationship between culture, dress and identity. We will look broadly across the world at how dress and adornment are an extension of one's culture and identity and compare and contrast this to our own.  We will explore the significance of dress through rituals, ceremonies and rites of passages as well as through a social and political lens. We will also examine the effects of globalization on dress and what this means in our contemporary world and how this is leading us into the future.
Another layer to the class is looking at indigenous groups and the techniques and handwork used within the realm of dress and the larger global impact on some of these techniques diminishing and the repercussions on a particular culture and one's identity. Also, we look at the breakdown of culture into sub-cultures both now and from a historical perspective.