Student Clubs active in 2017/18
ReStore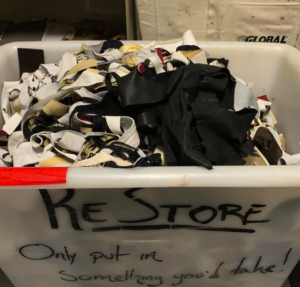 The ReStore is a 100% student-run free store on campus dedicated to reuse, upcycling, and sustainable practices. The ReStore provides an opportunity to upcycle and reuse materials free of charge, and inspires patrons from the MassArt and local community to incorporate sustainable practices in their work as artists, designers, and citizens.
Contact: restore@massart.edu  
IG: massartrestore
Massart: Action for the Planet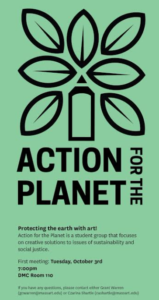 MassArt Action For The Planet is a group concerned about climate change, pollution, and the health of the Earth and its inhabitants. Climate change affects communities and wildlife across the globe; the evidence is overwhelming that humans are causing these negative effects. We feel compelled to take action to prevent more destruction being done to our planet.  Through sustainability efforts on the MassArt campus, we hope to reduce our carbon footprint and inspire others to do the same. Using art in a variety of media, we believe we can inform and expose our community to issues that we feel are crucial to our planet's sustainability.
In 2020/21 academic year, we are dormant, but will start up again in fall 2021 so keep your eye out!
Contact: Lucy Glover ltglover@massart.edu
Outdoor Adventure Club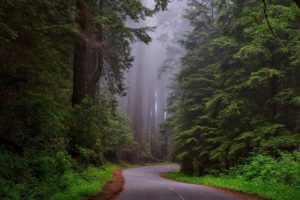 The purpose of OAC is to teach students more about natural environments through hands-on trips and activities. These activities can also act as inspiration for their art practice, a way to connect with new people within the COF, and an active outlet to relieve the stress and anxiety of being a college student in the city."
This semester we've been hosting virtual events such as Wilderness Jeopardy, movie nights, a virtual picnic, and bi-weekly challenges that encourages students to go outside and photograph nature for a chance to win a prize!
contact: Kelsey Fort: kefort@massart.edu