LSustainable Art & Design Lecture Series
Fall 2021
We are excited about this group of diverse artists and designers speaking about climate, ecology, humans and other-then humans, art, design, activism, indigenous voices, land, resilience, collaboration, systems thinking, and so much more.
Please join us by zoom via this link.
  All at MassArt are welcome.  
The talks will be introduced by Joanne Lukitsh and Jane Marsching with their classes.
Talks will be recorded and available to the MassArt community at this link one week after the talk.
Email sustainable@massart.edu for password for viewing if you are a MassArt community member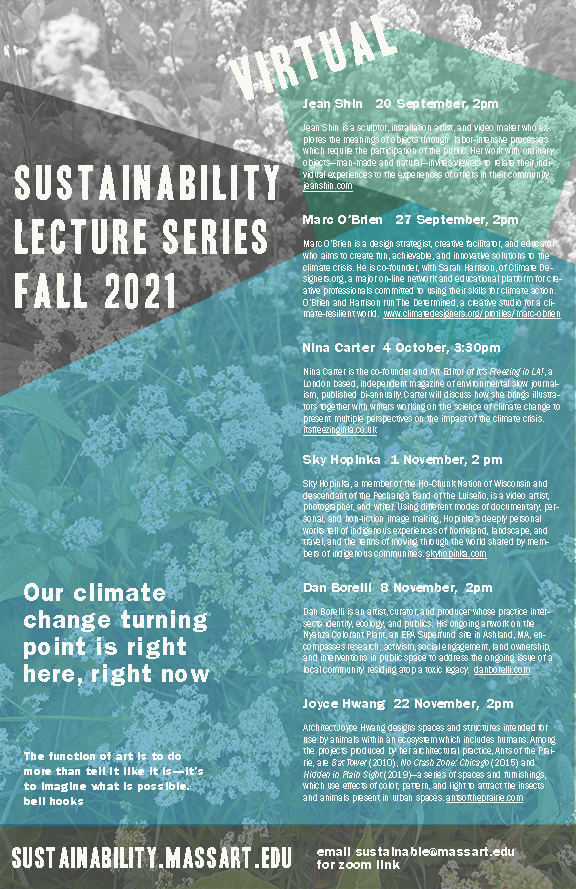 Jean Shin, 20 September, 2pm
Marc O'Brien, 27 September, 2pm
Nina Carter, 4 October, 3:30pm
Sky Hopinka, 1 November, 2pm
Dan Borelli, 8 November, 2pm
Joyce Hwang, 22 November, 2pm

Jean Shin
September 20, 2pm
Jean Shin is a sculptor, installation artist, and video maker who explores the meanings of objects through labor-intensive processes which require the participation of the public. Her work with ordinary objects—man-made and natural—invites viewers to relate their individual experiences to the experiences of others in their community. jeanshin.com
Marc O'Brien
27 September, 2pm
Marc O'Brien is a design strategist, creative facilitator, and educator who aims to create fun, achievable, and innovative solutions to the climate crisis. He is co-founder, with Sarah Harrison, of Climate Designers.org, a major on-line network and educational platform for creative professionals committed to using their skills for climate action. O'Brien and Harrison run The Determined, a creative studio for a climate-resilient world. www.climatedesigners.org/profiles/marc-obrien
Nina Carter
4 October, 3:30pm
Nina Carter is the co-founder and Art Editor of It's Freezing in LA!, a London based, independent magazine of environmental slow journalism, published bi-annually. Carter will discuss how she brings illustrators together with writers working on the science of climate change to present multiple perspectives on the impact of the climate crisis. itsfreezinginla.co.uk
Sky Hopinka 
1 November 2 pm  zoom
Sky Hopinka, a member of the Ho-Chunk Nation of Wisconsin and descendant of the Pechanga Band of the Luiseño, is a video artist, photographer, and writer. Using different modes of documentary, personal, and non-fiction image making, Hopinka's deeply personal works tell of indigenous experiences of homeland, landscape, and travel, and the terms of moving through the world shared by members of indigenous communities.    skyhopinka.com
Dan Borelli
8 November, 2pm  zoom
Dan Borelli is an artist, curator, and producer whose practice intersects identity, ecology, and publics. His ongoing artwork on the Nyanza Colorant Plant, an EPA Superfund site in Ashland, MA, encompasses research, activism, social engagement, land ownership, and interventions in public space to address the ongoing issue of a local community residing atop a toxic legacy.   danborelli.com
Joyce Hwang
November 22, 2021 zoom
Architect Joyce Hwang designs spaces and structures intended for use by animals within an ecosystem which includes humans. Among the projects produced by her architectural practice, Ants of the Prairie, are Bat Tower (2010), No Crash Zone: Chicago (2015) and Hidden in Plain Sight (2019)—a series of spaces and furnishings, which use effects of color, pattern, and light to attract the insects and animals present in urban spaces. antsoftheprairie.com
This lecture is the final in the Fall 2021 Sustainability Lecture Series
COF Center for Sustainability Fall 2021 Teach-In: Cultivating Community – Food Forests in Boston
A conversation about the Edgewater Food Forest in Mattapan, with:
• Vivien Morris, Chairperson, Edgewater Neighborhood Association, Steward of Edgewater Food Forest at River Street, in Mattapan
• Jessie Damberville, Vice Chair, Edgewater Neighborhood Association, Lead Steward of Edgewater Food Forest
• Shani Fletcher, Assistant Director, City of Boston Department of Neighborhood Development
• Orion Kriegman, Executive Director, Boston Food Forest Coalition
Moderated by Alex Alvanos, Associate Director of BFFC
Organized by Professor Stephanie Cardon, Director, COF Center for Sustainability and the Environment
bostonfoodforest.org/
The Spring 2021 Sustainability Lecture series videos are hosted here and available to MassArt community.  Please email for a password to access
Steve Lambert
Thursday 11 February, 9:00 am
Hosted by TIME: Radical Hope: Laughter at the Brink, with Stephanie Cardon
Steve Lambert is an artist and co-founder and co-director of the Center for Artistic Activism, a research and training institute helping activists be more creative and artists be more effective.
Lambert's work has been shown both nationally and internationally, from art galleries to Times Square to protest marches, featured in four documentary films, and over two dozen books, and collected by museums and The Library of Congress. Lambert has presented at the United Nations several times. His research is included in a United Nations report on the impact of advertising on cultural rights, as well as the basis for a book on popular understandings of capitalism. website
.Dylan Gauthier: Waterworlds – A Collaborative Public Practice.
Wednesday 17 February, 11:00 am
Hosted by TIME: Art and Ecology, with Jane D. Marsching
Dylan Gauthier is an artist, curator, and the founder of the water-based art and publishing collective Mare Liberum. His work addresses the social space of environmental concern, combining actions that engage with art, design, policy, and "worldmaking" across disciplines. He works through sculpture, sound, performance, text, and video, and is teaching in the Studio Foundation program at MassArt this spring.  website
Cannupa Hanska Luger
Tuesday 2 March, 5:00 pm
Hosted by TIME: Art and Ecology, with Jane D. Marsching
Cannupa Hanska Luger is a New Mexico based multidisciplinary artist who uses social collaboration in response to timely and site-specific issues. Raised on the Standing Rock Reservation in North Dakota, he is of Mandan, Hidatsa, Arikara, Lakota and European descent. Through monumental installations that incorporate ceramics, video, sound, fiber, steel, and repurposed materials, Luger interweaves performance and political action to communicate stories about 21st Century Indigeneity.
https://www.cannupahanska.com/
Candice Smith Corby
Tuesday 9 March, 10:00 am
Hosted by Color in Painting with Elizabeth Mooney
Candice Smith Corby is an artist, as well as a Professor and the Director of the Carol Calo Gallery in the Visual and Performing Arts Department at Stonehill College near Boston, MA. She is interested in connecting contemporary image-making with historical methods and materials. She is a Massachusetts Cultural Council 2008 Fellow and 2014 Finalist in painting, a 2011 Dave Bown Project Grantee, and received a 2013 Awesome Foundation grant. She was the invited 2018-19 Guest Artist at Fruitlands Museum in Harvard, MA which included an artist book and solo exhibition Inhabiting Folk Portraits.
Jess Brown AKA The Lady J 
Thursday March 11, 10:00 – 11:00am
Hosted by TIME: Radical Hope: Laughter at the Brink with Stephanie Cardon
As a multidisciplinary multimedia spectacle generator, Jess Brown makes work focused on the intersection of race, activism and gender roles in television, media and pop culture. She is a musician in the Extraordinary Rendition Band (ERB)and leader of the Clam Jam Brass Band (a feminist brass party band), she is active in her local community and interested in race politics, social justice, youth education and the arts.
https://www.theladyjbrown.com/ 
Yvette Perullo
Thursday 18 March, 12:00 pm
Hosted by the MassArt Library
Yvette Perullo is a Boston-based educator and designer with 22 years of experience in creative leadership and higher education. She is an advocate for sustainable design and as a co-founder and partner at Re-nourish helped build an independent resource and tool set to foster sustainable design practice. She co-authored a book with Eric Benson, Design to Renourish: Sustainable Graphic Design in Practice, available here. Perullo is a member of Climate Designers.
https://www.yvetteperullo.com/ 
Susie Ganch
Friday 2 April, 12pm
Hosted by Advanced Jewelry with Emily Cobb
Susie Ganch is a first-generation American artist of Hungarian heritage. She is a sculptor, jeweler, and educator living in Richmond, VA where she is Interim Chair for the Department of Craft/Material Studies at Virginia Commonwealth University. Ganch received her MFA from University of Wisconsin-Madison. Part of her practice is Directing Radical Jewelry Makeover, an international jewelry mining and recycling project that continues to travel across the country and abroad. Issues of waste and cultural habits of consumption are imbued through her work.
https://susieganch.com
Garnette Cadogan
Tuesday April 12 4:15pm
Hosted by FA3D Sophomore Studio with Judith Leemann

Garnette Cadogan is an essayist. His current research explores the promise and perils of urban life, the vitality and inequality of cities, and the challenges of pluralism. He writes about culture and the arts for various publications. In January 2020, his 2015 essay "Black and Blue" was included in the Norton Reader, Fifteenth Edition. He is the Porter Distinguished Visiting Professor for the 2020-2021 academic year. He was also a Martin Luther King Jr. Visiting Scholar (2017-2018) at the Department of Urban Studies and Planning at MIT. The editor-at-large of Non-Stop Metropolis: A New York City Atlas (co-edited by Rebecca Solnit and Joshua Jelly-Schapiro), he is at work on a book on walking.
Christina Seely
Friday, April 16, 12:00 – 1:00pm
Christina Seely is a visual artist whose multidisciplinary photographic practice stretches into the fields of science, design, installation and sound and culminates in a range of visual and collaborative translations. Her exhibition Next of Kin: Seeing Extinction Through An Artist's Lens opened at the Harvard Museum of Natural History in 2017 which led with related research to a 2020 Environmental Humanities Fellowship at University of Edinburgh in Scotland.
Courtney Leonard
Wednesday 21 April, 10:30 am
Hosted by Bioaesthetics with Saúl Nava
Courtney M. Leonard (Shinnecock, b.1980) is an artist and filmmaker, who has contributed to the Offshore Art movement. Leonard's current work embodies the multiple definitions of "breach", an exploration and documentation of historical ties to water, whale and material sustainability. In collaboration with national and international museums, cultural institutions, and indigenous communities in North America, New Zealand, Nova Scotia, and the United States Embassies, Leonard's practice investigates narratives of cultural viability as a reflection of environmental record.
https://courtneymleonard.com/home.html 
Fall 2020
The Fall 2020 lecture series included local and regional artists Erin Genia, Allison Marie Rodriguez, and Erin Johnson, graphic design educator Eric Benson, and social practice artists Mary Mattingly and Beatrice Glow, both based in New York City. Check out their websites and social media sites to learn more about their works.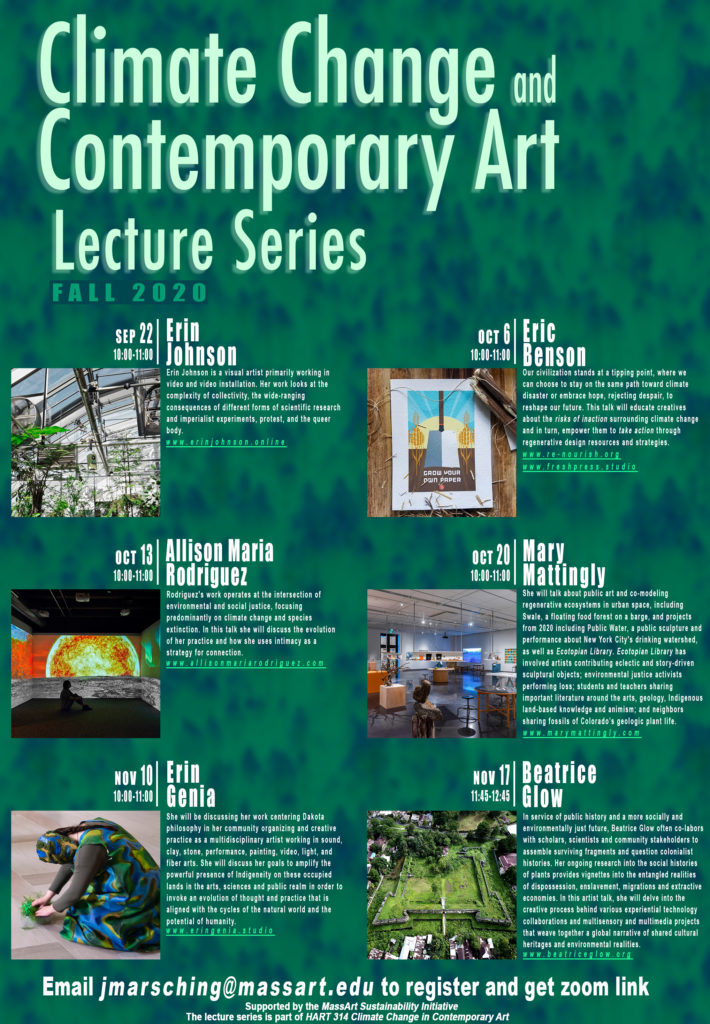 Designing In The Climate Crisis: Regenerative Design 101
Eric Benson, Associate Professor of Graphic Design, University of Illinois
October 6, 2020
Our civilization stands at a tipping point, where we can choose to stay on the same path toward climate disaster or embrace hope, rejecting despair, to reshape our future. This talk will educate creatives about the risks of inaction surrounding climate change and in turn, empower them to take action through regenerative design resources and strategies.
www.re-nourish.org & www.freshpress.studio
Beatrice Glow
November 17, 2020
In service of public history and a more socially and environmentally just future, Beatrice Glow often co-labors with scholars, scientists and community stakeholders to assemble surviving fragments and question colonialist histories. In this artist talk, she will delve into the creative process behind various experiential technology collaborations and multisensory and multimedia projects that weave together a global narrative of shared cultural heritages and environmental realities.
beatriceglow.org
Camille Tagle, FABSCRAP
October 29, 2020
Camille Tagle, CoFounder and COO at FABSCRAP will speak to the
MassArt community about the fashion industry's textile waste issue,
including residential versus commercial waste, what happens in the
design process to contribute to the waste issue, as well as provide
information about headers and the supply chain.
Camille draws upon her experiences as a former fashion designer in
NYC where she often witnessed environmentally damaging practices in
the design process. She believes that sustainability must become a key
component in the education of today's designers, and in shaping the
future of the fashion industry.
FABSCRAP is a textile reuse and recycling resource. Materials that
traditionally would have gone to landfill are now being properly
recycled and made available for reuse. fabscrap.org
Cosponsored with the Fashion Department