Here is a selection of travel courses that can count as credit towards the COF Minor in Sustainability at MassArt:
MassArt courses:
India Now: Contemporary Arts and Culture, Lois Hetland and Jennifer Varekamp
Desert Field BioArt and Natural History in the American Southwest, Saul Nava
Non MassArt courses:


The Mindful Palette: Food, Art and Sustainability
2018 Summer Study Abroad Institute
July 1-22  2018
Siena, Italy
Travel to Italy this summer for a unique three-week international seminar exploring studio art, environmental science, and global food security in the context of the slow food movement.
info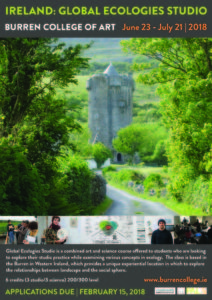 Burren College of Art is now accepting applications for ​the Global Ecologies Studio Summer School, which runs from June 23 – July 21, 2018.  ​
Now in its third year, this four-week course is a combined studio and science course offered to students who are looking for an opportunity to explore their studio art practice while examining various concepts found in ecology and earth systems. This class is based in the Burren of Western Ireland, which provides a unique experiential and observable location in which to explore the relationships between landscape and the social sphere.
We will investigate, with a combined science and fine art practice, how our social and earth ecologies coexist and interrelate. We will examine ways anthropogenic influences are shaping large-scale interactions of climate, oceans and the biosphere to define our shared environment. Class meetings will include seminars on the scientific discourse around ecological thought, as well as discussions of contemporary fine art practice by faculty and visiting Irish artists, and local experts of The Burren. Multiple field trips and excursions into the local landscape and cultural surroundings will be an important component of the course. Environmental and social justice, ecological thought, and activism will be central themes.
The course is co-taught by Emily Bosanquet (Pacific Northwest College of Art) and Hugh Pocock (Maryland Institute College of Art), and is worth 6 credits (3 studio, 3 science), 200/300 level.
Cost Per Student: 4300 Euro (Includes tuition, studio, and housing based on twin room occupancy in self-catering accommodation)
To Apply please visit: https://aicadgrad.slideroom.com/#/permalink/program/40370
Additional information can be found here​
Seamester:
Spring 2024
Asia, Africa, and Europe Exploration
Exploring countries in Asia, Africa, and Europe, this voyage gives participants a truly global study abroad experience on our floating campus!