Microgrants 2016/17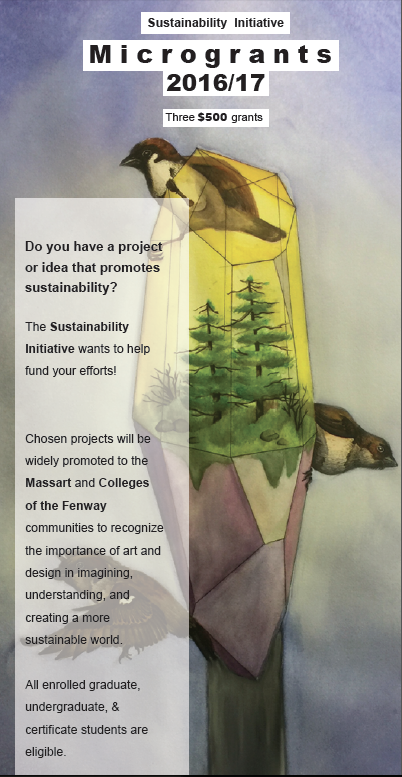 We've released the information for applying for Sustainability Microgrants this fall…
Sustainability Initiative Microgrant
2015/16 GRANT CYCLE
Massachusetts College of Art's Sustainability Initiative is pleased to offer students the opportunity to apply for mini-grants with which to pursue projects and initiatives that promote sustainability.
Projects granted will be widely promoted to the Massart and COF communities to recognize the importance of art and design in understanding, imagining, and designing a more sustainable world.
Public presentations will offer opportunities for the Massart community to learn more about how to live and create sustainably.
Project Microgrant
3 awards available
each award $500 in the form of expense reimbursement*
Information meeting: Wednesday October 5, South 308
Application Deadline: October 21, 2016
Award announcement: November 4, 2016
Project completion: April 29, 2017
* Expense reimbursement means that you will need to buy the materials you need, then provide the chair of the SIC with receipts for your expenses. The College will then reimburse you for the money you spent.
Download application guidelines here:  1617micrograntguidelines
Please contact Jane D. Marsching jmarsching at massart dot edu with any questions.