Sustainability Initiative Microgrant winners in 2016
Recently I have learned that the sea is rising drastically due to climate change. We have arrived at the moment where we need to split our attention between preventing worsening climate conditions and preparing for what's to come. A shift in the coast will be visible in the next twenty years and we are the first generation to reconsider having children based on the fact that our planet may not be habitable. Climate change and the effects on the ocean are not understood by everyone and are often avoided because the subject is massive and the impact is even bigger. This year my goal is to address the rising tides in my work through a multi-piece collection and installation. I am creating a series of beautiful garments that are quiet at first, but as you look closer and deeper into the meaning it comes crashing down like a wave. Garments will be transformable, include some eye-opening text, and cross between evening and ready to wear. They will be experimental, exciting, and 100% sustainable. The bases of the garments will start out as either organic fabrics or upcycled fabrics that will then be dyed or hand painted with natural dyes, embroidered, and appliqued. I will use my knowledge of fashion and fibers to create looks that are intriguing, intensive, and informative. I will also attempt to keep my waste to a minimum through zero waste patterns and techniques. Visually I will take inspiration from the shape and power of the waves, the algae that marks the high tides, the feeling of helplessness, and the urge to create change. I want to be able to inform people about the issues we face and how much worse they could get if we don't manage to act more responsibly for our planet.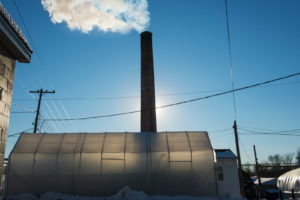 Marissa Ciampi
Photography'16
Lovely Days
Greenhouses make it possible for people to bring home a piece of nature to grow on their own. According to behavioral research, the presence of flowers triggers happy emotions, heightens feelings of life satisfaction and affects social behavior in a positive manner far beyond what is normally believed.[1] However, most flowers that are purchased from garden centers are grown with the use of chemicals that are toxic to the air. Chemical fertilizers are significantly high in nitrogen, which finds its way into the air as nitrous oxide. Nitrous oxide can remain in the atmosphere for an average of 114 years, making it 300 times more effective in trapping heat than carbon dioxide.[2] I'm interested in the tension between beauty and toxicity that exists within the production of plant life.
For the past six years I've been working at a retail greenhouse, which is part of a larger 60-acre greenhouse corporation. This past summer I worked within wholesale production. The experience not only changed the way I look at the flowers we sell, but gave me a new, first-hand understanding of the issues of climate change and sustainability that are constantly in the scientific field. Due to consumers' high expectations of large and healthy plant life, employees simulate weather conditions, water daily, and spray chemicals for them to mature at an unnaturally fast rate, resulting a perfected fabricated form of nature. My peaked interests in topics of global warming, greenhouse gas emissions, and deforestation have challenged me to make photographs that address the importance of these issues, informs the community, and reveals a way in which we damage the Earth.
I became interested in the act of recreating an environment. It was intriguing to me to discover how detrimental a small blue granular fertilizer could be and often thought what it would look like if it were visible in the air. I took my own approach at recreating what a greenhouse would look like filled with nitrous oxide. I was able to uncover an insider's perspective on greenhouse production to raise attention to a global issue that needs to be addressed.
[1] "Rutgers: Flowers Improve Emotional Health." Emotional Impact of Flowers Study. N.p., n.d. Web. 05 Apr. 2016.
[2] Adams, Case. "Overview of Greenhouse Gases." Nitrous Oxide Emissions. N.p., n.d. Web. 24 Apr. 2016.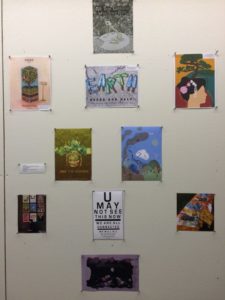 Kerry Fitzgibbon
Illustration'16
Seed Paper Posters
In the fall of 2015 200 students from Studio Foundation and Illustration department majors created poster designs on the occasion of the international summit COP21. At this summit heads of governments met to create global agreements to limit the causes of the climate crisis. MassArt Students created images which we sent to local and global policymakers, including President Obama. We began with exhibiting them on campus with an installation of all the posters in the windows of the first floor of one of MassArt's most visible buildings, the Tower Building. By facing the posters out, towards the streets, and covering every available window, people walking down Huntington Avenue saw what matters to students and residents: issues from species extinction to sea level rise, from GMOs to drought. Students responded to the urgent ecological concerns we are seeing all around us. The next step was to select a few designs through a juried committee and print them on locally sourced seed paper.  This paper, made in small batches, contains in its pulp seeds to grow herbs and lettuces. These prints were handed out at the Colleges of the Fenway Earth Day event in April 2016.  At this event hundreds of students, staff, and faculty from the six colleges comes to learn more about ecological initiatives and to be inspired.  The images were a conversation starter that got people thinking about the power of art and design to make change as well as the things that we, millennials, care about in our rapidly changing environment. The goal is to make people stop in their tracks and think about what is happening to our planet, create a conversation, and give options of how people can get involved.