Congratulations to ReStore and Pippa and Olivia for all their awards honoring the great work they have done on campus this year!  Kudos!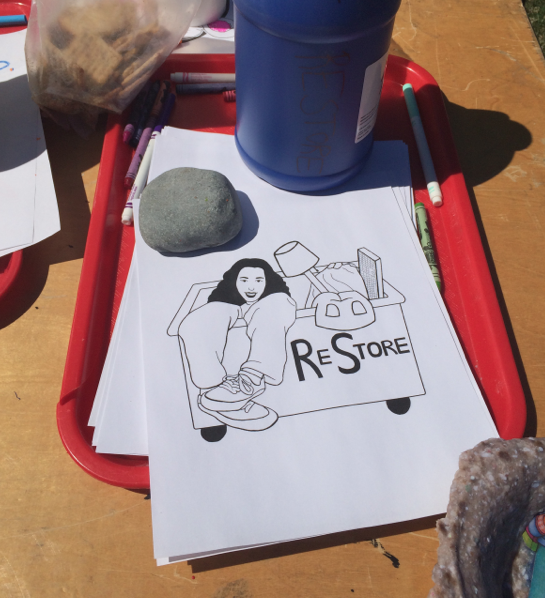 Congratulations to all of the nominees for the 2014 Student Leadership Awards!
Service Awards
The Service Award, established in 1997, encourages student service to the MassArt community and isawarded to a student who has gone above and beyond the call of duty in the area of community development within the college.
Nominees
Alex Nally
Andrew Rondinone
Caitlin Mavilia
Sadie Saunders
Pippa Adam
Emerging Leader Award
The Emerging Leader Award recognizes a new student leader who has most noticeably demonstrated initiative, motivation and potential for continued leadership at MassArt. 
Nominees
Montana Gulbrand
Colby Pouli
Alexis Fowler
Pippa Adam
Olivia Marciano
Devon Dickinson
Julia Dudley-Kramer
Erica Moriconi
Jeremy Dupont
Julian Citron
Unsung Hero Award
This award recognizes the student leader who goes far beyond his or her leadership responsibilities by creating an atmosphere where all are welcome and accepted. This student works for positive change while developing relationships, empowering others and creating community at MassArt.

Nominees
Rosa JiYoon Hyun
Chloe Leigh
Alexandra Dupuy
Shawn Kelley
Kristen Currier
Pippa Adam
Renee Silva
Carly Blais
Jay Borrelli
Kelsey Trottier
SGA Organization of the Year Award
This award goes to the SGA student group or student department group who has clearly defined their organization's mission to the MassArt community and values the ideals of leadership, collaboration and outreach to fellow student groups/departments.  The SGA organization of the year is a group that dedicates themselves to serving the campus community.
Nominees
Restore
Godine Family Gallery
Student Gallery Managers
Iron Corps
Artist of Color Union
Leader of the Year Award
The Leader of the Year Award recognizes the outstanding leadership abilities and contributions a studentleader who is well respected by their peers, faculty and staff. This student has impressive organizational and time management skills and understands and supports the mission and goals of MassArt.
Nominees
Rosa JiYoon Hyun
Carly Blais
Andrew Rondinone
Austin Carrier
Pippa Adam
Olivia Marciano
Joe Soto